Homemade teriyaki sauce is easy to make with just a few Asian pantry ingredients and creates a sweet, savory and juicy salmon filet. Here's an easy 30 minute teriyaki salmon recipe.
Teriyaki Salmon
I'm always looking for easy salmon dinner recipes that come together quickly but don't skimp on flavor. Try this one if you like Asian flavors!
It's simple to make classic Japanese teriyaki sauce at home, especially if you already have common Asian sauces in your pantry. The teriyaki sauce doesn't need any marinating time and packs a lot of flavor – sweet, savory, slightly sticky.
And it's still a very healthy meal!
The teriyaki salmon filets are light, flaky and juicy. I usually eat it with rice and a side of vegetables and it's overall a very quick and nutritious weeknight dinner.
Here's how to make Japanese teriyaki salmon in just 15 minutes.
Keep reading, or pin this article to save it for later ⇟
Teriyaki Salmon Recipe Video
What You'll Need
I recommend a cast iron pan. It will be the easiest pan to achieve perfectly cooked salmon, every time.
For the most authentic Japanese style teriyaki sauce, use Japanese soy sauce. It's different than Chinese soy sauce. I used this one.
It's a little expensive but has a strong and salty flavor, so a little goes a long way.
Sake is Japanese wine. For cooking, just get an inexpensive bottle of sake – don't waste the good stuff! If you don't have sake, you can substitute with water, white wine or Chinese rice wine.
Mirin is Japanese rice wine and very similar to sake, but with a lower percentage of alcohol and a bit more sugar. I haven't found a great substitute for this so I recommend using mirin. You can find it at Asian grocery stores or online here.
How to Make Teriyaki Salmon
How to Cook Salmon Without Drying Out
Cooking salmon on the stove is tricky… until you know the secret!
Start with room temperature fish (if it's frozen, make sure to let it fully thaw). I recommend skin-on salmon filets that are about ½ to 1 inch thick.
The skin helps the fish stay intact and retains moisture. Filets on the thinner side are better, as they cook faster and more evenly.
For this recipe, since we're adding a teriyaki sauce, I also lightly coat the salmon with flour. The layer of starch helps create a nice crust that eventually thickens the sauce and absorbs the teriyaki flavors.
I don't pre-season the salmon with salt because the teriyaki sauce has soy sauce and will be plenty salty, but it's up to you.
If you want to be extra precise, you can use a kitchen thermometer.
Cook the salmon until the thickest part of the filet reaches an internal temperature of 125 – 130 °F (52 – 54 °C). The fish will continue to cook as it rests.
The Cold Pan Method
Put some oil in a cast iron or stainless steel pan. I recommend cast iron because it's easier to use.
Place in your fish. The first side of the fish that hits a clean pan will have the nicest browning and crispness so we'll start with the skin side down.
Then turn the heat on high.
The 'cold pan' method works because cast iron (and stainless steel) heat up slowly, but retain even heat for a long period of time. This gives the salmon enough time to cook, without drying out.
Look at the side of the filet to gauge doneness. The flesh slowly transitions from raw red to translucent and eventually opaque pink. When the flesh is cooked about half way through, we'll flip the fish and steam it in sake for extra moistness.
In general, for a thin ½ – 1″ filet, it will take 3 minutes to cook on each side.
Use a Fish Spatula
Fish spatulas are flexible, bendy utensils that come in handy when cooking delicate protein.
I have this fish spatula and use it all the time to make fish, tofu and even grilled cheese.
Especially when cooking salmon, a fish spatula is helpful to press down on the filet and ensure that all parts of the skin are in contact with the pan.
Fish can often have a tendency to curl up but the spatula prevents that.
Teriyaki Sauce
If you like the combo of sweet and savory, you'll love teriyaki salmon.
Don't buy pre-packaged teriyaki sauce. It's easy to make yourself, with a couple of Asian pantry sauces, and will taste much better!
There are just 3 main ingredients:
How to Make Japanese Teriyaki Sauce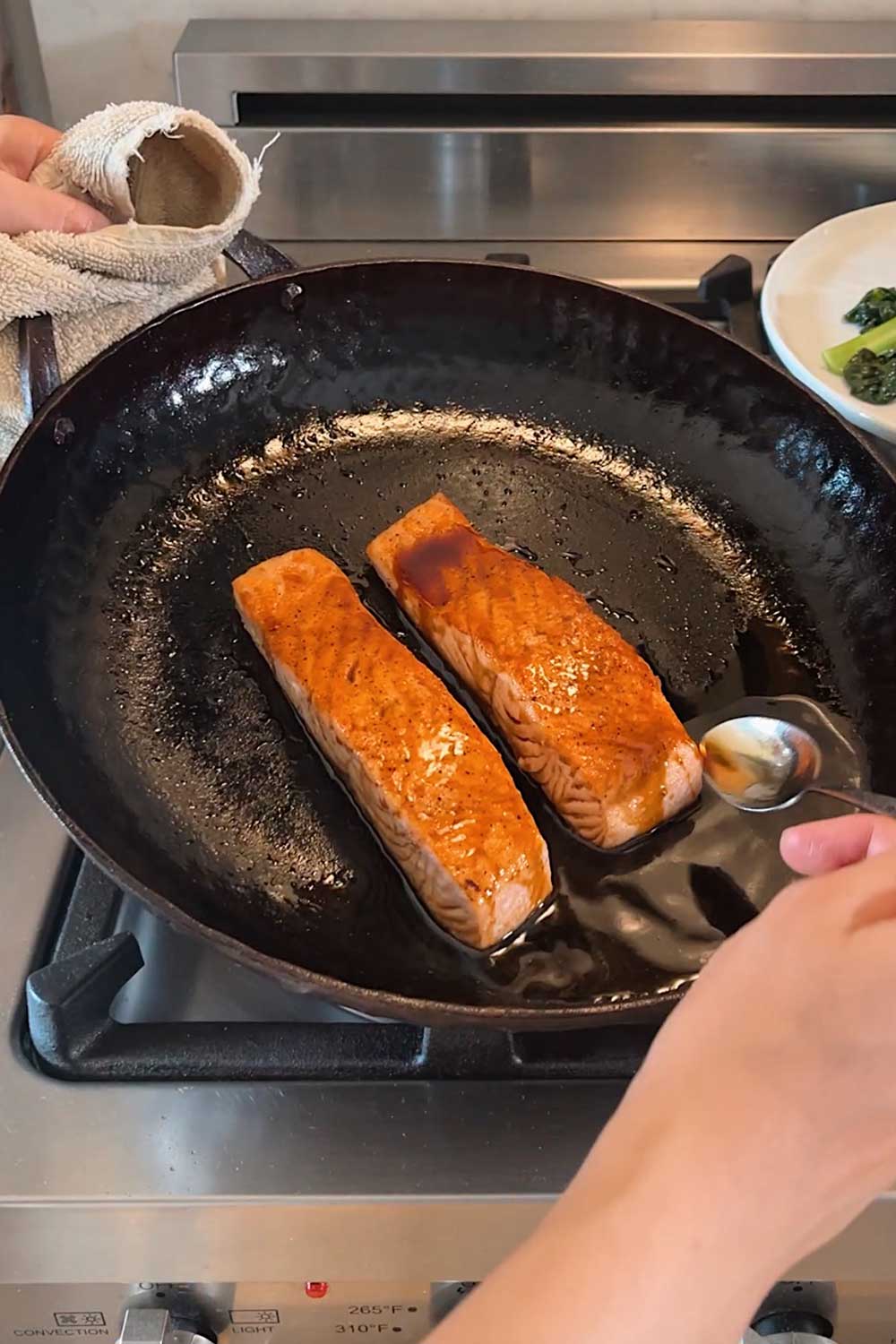 Each sauce should be in equal proportions (I usually start with 2 tablespoons of each).
If you like your food on the sweeter side, you can add sugar or honey and use half the amount as the other ingredients (so add 1 tablespoon sweetener per 2 tablespoons soy sauce).
I prefer honey, because it adds a nice touch of caramelization. It does burn quicker though, so be careful to turn the stove down.
Cook the salmon as you normally would by searing it skin side down, to get a nice crispy skin.
Then add sake and cover the pan to slowly steam the finish. The sake will prevent the flesh from drying out and also add more flavor, but you can also substitute with water!
Then lower the heat and add the teriyaki sauce to the pan to warm up the sauce. After the liquid has reduced slightly, add back in your salmon and baste the teriyaki sauce over the fish.
It's a similar process to how you'd baste steak in butter!
Side Veggie Options
I typically have salmon over rice with a heaping side of green veggies.
Because this is an Asian recipe, I think Asian greens go best, but you can use whatever you like!
Lately I've been obsessed with growing my own vegetables indoors, since they're really easy to grow.
I like baby bok choy, tatsoi, or chijimisai – they pair nicely with salmon and you can cook them simply with salt and pepper, or oyster sauce or garlicky soy sauce.
All of them cook down quite a bit, so I usually cook a huge batch. They shrink down to about 50% of their original size.
The best part is you can stir fry or steam the veggies in the same pan with the salmon. Fewer dishes to wash!
Easy Teriyaki Salmon Recipe
A sweet and savory salmon dinner that's easy to make and packed with flavor!
Ingredients
Salmon
1 tbsp flour
1 tbsp sake, for steaming
Scallions, for garnish (optional)
Teriyaki Sauce
Instructions
Cut your salmon into BBQ style filets, about 1-2 inches wide and approximately 1/2 - 1 inch thick. Lightly coat with flour on both sides, skin and flesh.
Make the teriyaki sauce by combining soy sauce, mirin, sake and honey.
Place the salmon in a cast iron pan and then turn the heat on. Press the filet gently with a fish spatula so that all of the skin sears evenly. Cook for 3 minutes or until the skin is golden brown and crispy.
Flip the fish and reduce the heat on low. Add sake to the pan and cover with a lid. Steam the fish for another 3 to 5 minutes, until the salmon has been cooked through.
Once cooked, transfer salmon to a plate and set aside.
Add the teriyaki sauce to the pan. Slowly reduce the sauce into a glaze, adjusting the heat as necessary. Once the sauce starts to boil and thicken, add back in your salmon and baste the fish in the teriyaki sauce, like you would a steak.
Cook for a minute or so, until the salmon has absorbed the teriyaki and the sauce has thickened. Plate over white rice and drizzle any remaining teriyaki sauce on top. Garnish with scallions and serve with veggies.
Recommended Products
As an Amazon Associate and member of other affiliate programs, I earn from qualifying purchases.
Follow me on