Blistered shishito peppers are so quick and easy to make. They're sweet, salty and slightly smoky – and take just 5 minutes on the stove!
Blistered Shishito Peppers
If you go to a Japanese restaurant, there's two popular appetizers: edamame and shishito peppers.
I've never really been a fan of edamame, but blistered shishitos I can get behind!
These thin wrinkly peppers are sweet and smoky, thanks to being blasted with heat on the grill. Eat them plain, with a sprinkle of salt and lemon juice, or dipped in a smoky aioli!
Here's how to make blistered shishito peppers.
Keep reading, or pin this article to save it for later ⇟
Blistered Shishito Pepper Recipe Video
What You'll Need
Shishito Peppers
Lemon
Most grocery stores carry shishito peppers these days, but if you can't find it they're very similar to Spanish padrón peppers!
In fact, this Japanese appetizer tastes very similar to the Spanish tapas.
For oil, I like to use Kadoya sesame oil. But you can also use a nice olive oil to finish the dish!
I also recommend a flaky sea salt to garnish the peppers. Maldon sea salt is great!
How to Cook Shishito Peppers
Shishito Peppers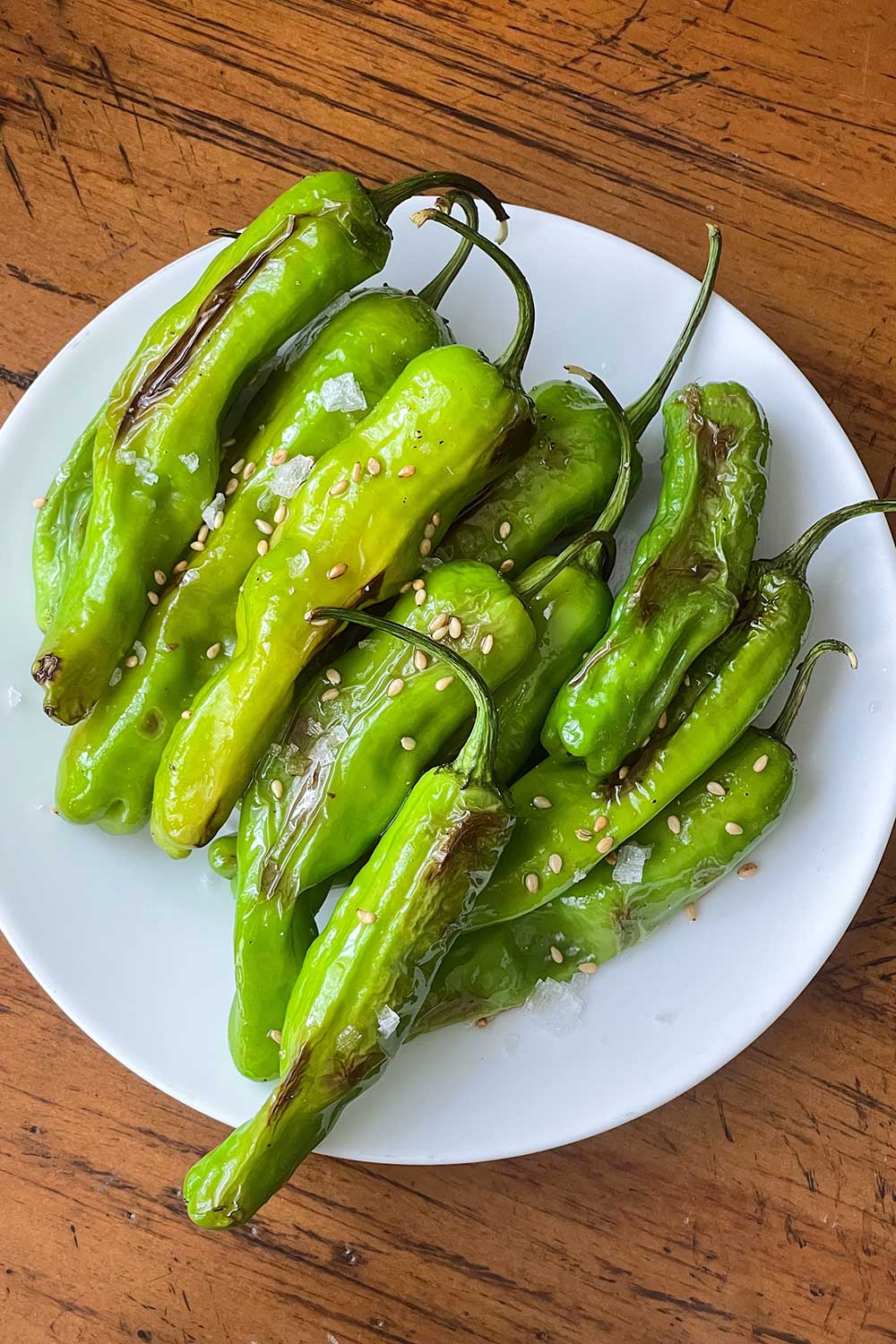 Shishito peppers are a Japanese pepper known for their wrinkly, light green flesh.
I grew these indoors in my hydroponic garden and found them super easy to grow! They're quick to mature, produce tons of peppers on a single plant, and easy to cook.
You can of course, just buy them from the grocery store.
Read more:
How to Grow Shishito Peppers
Sauté, Oven Bake or Grill?
I usually sauté the shishitos on the stove top, so that they blister nicely without wilting and overcooking.
Just make sure to thoroughly dry the peppers before you place them in a hot pan with oil. Otherwise, the oil will splatter back at you!
You can also bake them on a tray in the oven. But, I find that usually they can overcook this way and start to lose their nice bright green color.
Grilling is another great option, especially in the summer!
To grill shishitos, preheat the grill to medium heat (~350ºF). Place the peppers on the grates and sear on each side for about 2 to 3 minutes, until you see nice char marks.
Shishito Pepper Appetizer
I usually leave the stems on, and eat the whole pepper (seeds and all) but discard the stems.
If you want, you could also make a dipping sauce!
Try ponzu – it's a Japanese soy sauce with a bit of lemon. Or, make a spicy mayo by combining mayonnaise with Sriracha sauce.
You could also do a garlicky aioli with mayo, garlic cloves, lemon juice, salt and black pepper.
Shishito peppers are usually eaten as an appetizer or side dish. Try it with any kind of Asian dinner, like Korean spicy garlic fried chicken.
Are blistered shishito peppers hot?
Shishito peppers belong to the capsicum annum or hot pepper family… but they're not hot!
They're a very mild tasting pepper, especially because they're eaten in their immature green stage.
But, roughly 1 in every 20 peppers can be spicy.
What do blistered shishito peppers taste like?
Shishitos taste a bit like fresh green peppers, but slightly sweeter.
They're very similar to Spanish padrón peppers!
Are blistered shishito peppers healthy?
Yes! Shishito peppers are a great source of vitamin A, C and E so they're good for your immune system, eyesight and skin.
Making a side dish of these blistered shishitos is so quick and easy.
It comes together in just 5 minutes and tastes like a light, refreshing snack!
Blistered Shishito Pepper Recipe
Blistered Shishito Peppers
Blistered shishito peppers are so quick and easy to make. They're sweet, salty and slightly smoky - and take just 5 minutes on the stove! 
Ingredients
Instructions
Wash peppers and dry thoroughly.
Add neutral cooking oil to a stainless steel pan. Heat until very hot, when the pan is just starting to smoke.
Add peppers. Saute in a single layer, uncrowded, and leave untouched for 2-3 minutes, until they start to blister and brown.
Add salt and flip the peppers so they blister on all sides.
Transfer to a serving plate. Garnish with sesame oil, flaky sea salt and a squeeze of lemon.
Recommended Products
As an Amazon Associate and member of other affiliate programs, I earn from qualifying purchases.
Follow me on