Mizuna is crunchy, refreshing and healthy! Make this easy Japanese dressing for a light mizuna salad.
Mizuna Salad
Mizuna is a type of mustard green that's popular in Japan.
It has frilly leaves and thin crisp stalks that easily absorb sauces, so it's quite popular to add mizuna greens to salad. Here's an easy Japanese style dressing that uses everyday Asian pantry ingredients.
It's quick to assemble and makes a light, refreshing salad to add to any lunch or dinner!
Keep reading, or pin this article to save it for later ⇟
Mizuna Salad Recipe Video
What You'll Need
Mizuna
Rice Vinegar
Soy Sauce
This is a super easy homemade dressing that uses Japanese sauces you likely already have on hand, if you make Asian food often.
A basic salad dressing consists of oil and vinegar, in equal ratios.
I like to add a bit of sesame oil in addition to the olive oil – it has a slightly nutty, sweet taste that always adds a finishing touch to Asian meals!
If you prefer brighter, more acidic dressings, try substituting ponzu for soy sauce. Ponzy is soy sauce with citrus.
Homemade salad dressings tend to separate easily if left alone, so give it a quick mix before pouring onto the mizuna!
How to Make Mizuna Salad
Mizuna
I grew mizuna indoors in my Aerogarden. It's very easy to grow, especially hydroponically, so I soon had a little bush with more mizuna than I knew what to do with!
Here's a simple and light mizuna salad that's easy to prepare. It's a great way to get extra greens in your diet and takes just a couple minutes to whip up, so it's the perfect healthy meal after a long day of work..
Mizuna can be hard to find at the grocery store, but it's easy to grow on your own!
You can buy seeds here and try growing them indoors or in containers.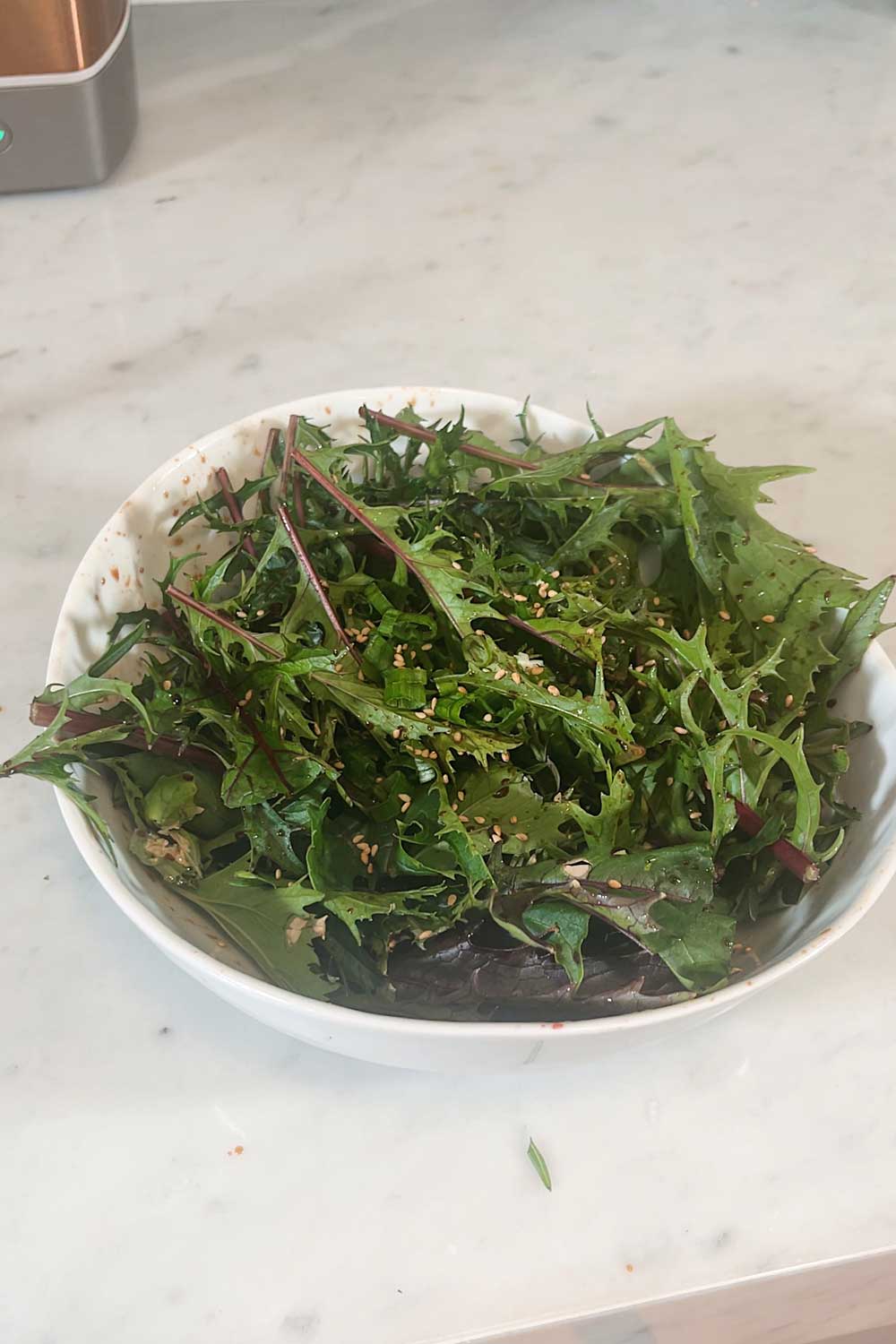 What can I do with a lot of mizuna?
Mizuna can be eaten fresh, stir fried or pickled. It's a versatile Asian green!
Can you eat mizuna raw?
Yes! Mizuna has a slightly pepper-y flavor, similar to arugula.
You can eat raw mizuna in salad form, since the vegetable easily absorbs sauces and dressings.
If you find the flavor of mizuna too bitter and want a more balanced salad, try doing a 50:50 mix of mizuna with mixed greens.
I usually make this green salad whenever I eat something heavy, like steak or fried chicken. This mizuna salad is so light and refreshing and pairs well with heavier dishes.
Is mizuna good cooked?
Yes! Traditionally in Japan, mizuna is pickled, stir fried and added to hot pot and soup dishes.
Mizuna is crisp and crunchy, with leaves that easily absorb liquids. So try sautéing it with soy sauce, ponzu or stock.
Mizuna Salad Dressing
A light and refreshing Japanese-style Mizuna salad.
Ingredients
1 bunch mizuna
2 tbsp olive oil
1 tbsp soy sauce
1 tsp honey
Instructions
Roughly chop mizuna into 1 inch sections
Combine rice vinegar, olive oil, soy sauce and sesame oil.
Add honey to taste.
Pour over mizuna mustard greens and garnish with sesame seeds.
Notes
Salad dressing separates easily, so mix well before pouring onto the mizuna salad. Feel free to add tomatoes, avocado, roasted veggies or any protein you like!
Recommended Products
As an Amazon Associate and member of other affiliate programs, I earn from qualifying purchases.
Nutrition Information:
Yield:
1
Serving Size:
1
Amount Per Serving:
Calories:

576
Total Fat:

51g
Saturated Fat:

7g
Trans Fat:

0g
Unsaturated Fat:

41g
Cholesterol:

0mg
Sodium:

912mg
Carbohydrates:

25g
Fiber:

12g
Sugar:

7g
Protein:

11g
Follow me on