Swiss chard is a distinctive vegetable with bright colored stems. It's a nutritional superfood, an excellent substitue for spinach or kale, and also looks lovely in the garden!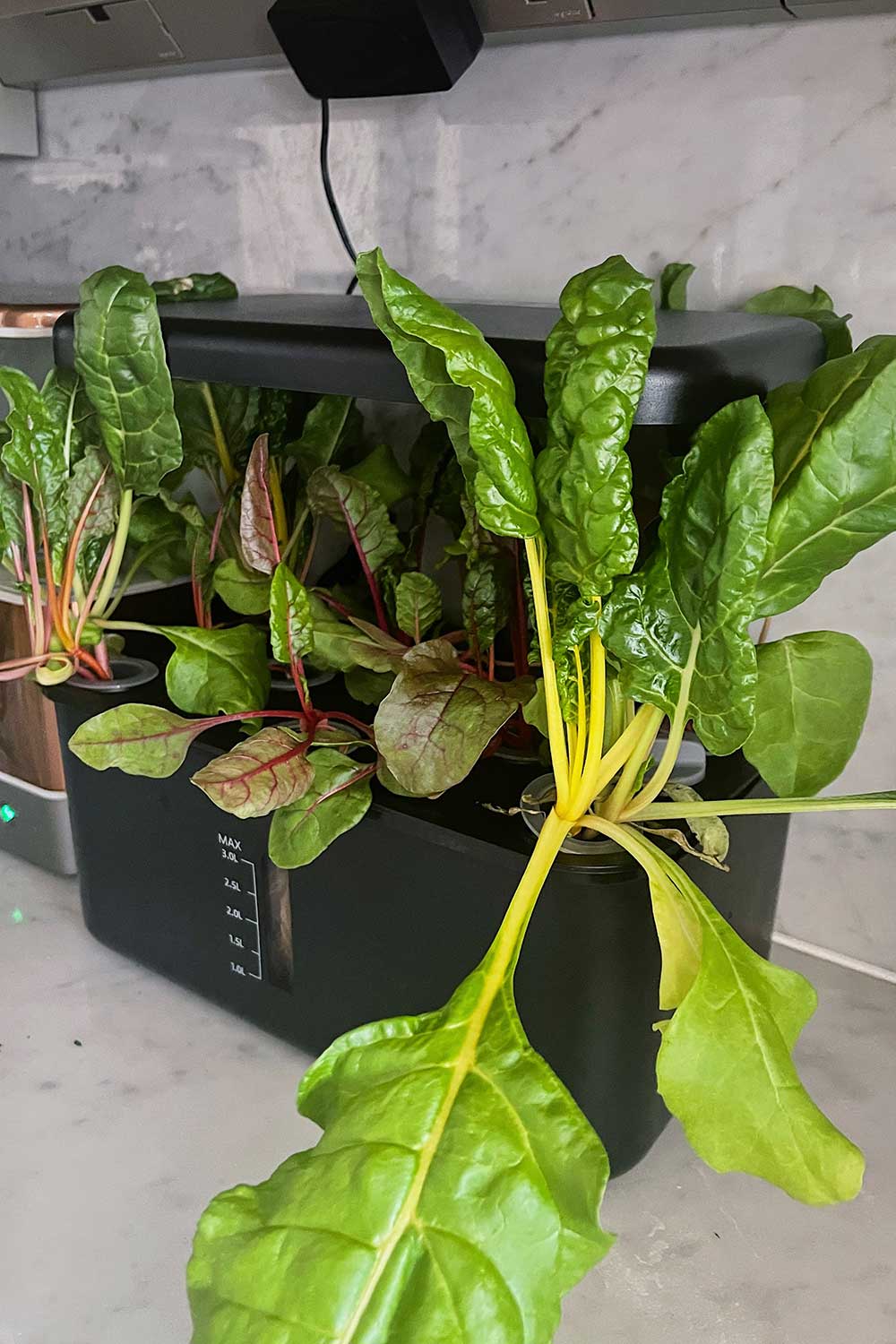 Swiss Chard
Swiss chard is a beautiful garden vegetable that tastes as good as it looks.
It has crisp stalks and large, thick ruffled leaves. In fact, it looks a bit like a cross between celery and spinach.
But surprisingly, it's a member of the beet family!
Swiss chard originated in the Mediterranean and is commonly found in pasta, risottos and other Italian dishes. The funny thing is it's not Swiss at all. No one quite knows why it's called Swiss chard but it was likely discovered and named by a Swiss botanist.
Swiss chard grows quickly and easily, and is nutrient packed with vitamins A, C and K. My favorite variety, Rainbow Swiss chard, grows in fabulously bright colored stems.
If you're looking for an easy to grow, healthy vegetable that will also look pretty in your garden, you have to try Swiss chard.
Here's everything you need to know about growing, harvesting and cooking with Swiss chard!
Planting Swiss Chard
Swiss chard is both edible and ornamental.
The colorful stems and bright green leaves don't ship well though, so it's hard to find outside of farmer's markets and specialty grocery stores.
The best way to have Swiss chard is to grow it yourself!
And luckily, it's very easy to grow.
Buy seeds: Amazon, Botanical Interests, Etsy
Keep reading, or pin this article to save it for later ⇟
Swiss Chard Grow Guide
| | |
| --- | --- |
| Botanical Name | Beta vulgaris var. cicla |
| Common Name | Swiss chard, silverbeet, silver beet, leaf beet, seakale beet, spinach beet |
| Mature Size | 18 to 24 inches tall |
| Days to Harvest | 60 days from seed |
| Light | Partial to full sun |
| Soil Type | Rich, well draining soil |
| Soil pH | Slightly acidic (6.0 – 6.8) |
| Hardiness Zones | USA Zones 3-10 as annual, 6-10 as biennial |
| Native Area | Mediterranean |
| Pests | aphids, mites, caterpillars, flea beetles, leaf miners |
| Diseases | cercospora leaf spot |
Growing Swiss Chard
Swiss chard does well in ground, in raised garden beds, small containers and even indoors in hydroponic systems.
Directly sow seeds about half an inch deep, with 8-10 seeds per foot. When the plants grow a couple inches tall, thin them out so only one plant is left per space.
Chard prefers full sun, steady watering and a bit of fertilizer for extra nutrients.
Swiss chard does best in cool to moderate temperatures, so plan it for either a spring or fall garden. It can still grow in the summer, but hot sun makes it grow more slowly. For a steady supply, succession plant your chard and sow new seeds every couple weeks.
Harvest the outer leaves throughout the season, or re-sow in late summer to start a second crop in the fall.
Growing Swiss Chard Hydroponically
I decided to try growing a colorful variety of Swiss chard in my Ahopegarden.
Leafy vegetables tend to do quite well indoors, even in small hydroponic systems, and Swiss chard is no exception! Everything germinated within 4-5 days and I had a full grown plant in a month.
One thing I didn't realize is that Swiss chard seeds come in a pod shape.
The pods are large and irregular, and each pod contains several seeds. I planted just one pod per grow space and was surprised when I saw multiple Swiss chard plants in each grow sponge.
To give each plant enough space, you'll want to thin out the extra baby plants. You can eat them as microgreens so they don't go to waste!
Under grow lights, my Swiss chard grow extremely quickly. The stems start out weak and wilted at first, but grow firmer and stronger with each week.
I especially loved the rainbow Swiss chard variety. Each stem practically glows under LED lights!
Read more:
How to Use Your Own Seeds in the Aerogarden
Best Indoor Gardening Products to Grow Swiss Chard

Indoor Gardens
Use Your Own Seeds
Swiss Chard Varieties
Swiss chard is a member of the beet family. But unlike beets, we grow Swiss chard for its stems and leaves!
There are multiple varieties of Swiss chard, including:
Five Color Swiss Chard: also called Rainbow, due to its colorful stems and leaves that come in a range of white, orange, pink, red and yellow
Bright Lights Swiss Chard: another rainbow-esque variety known for stems that range in colors
Fordhook Giant Swiss Chard: an extra large heirloom variety with greenish-white leaves and known for great flavor. Grows over 2 feet tall!
Perpetual Swiss Chard: a variety similar in taste to spinach and known for re-growing leaves quite quickly as the outer leaves are harvested
Fire Fresh Swiss Chard: a fast growing variety with ruby colored stems. Leaves are ready to harvest in just 25-35 days!
Red Magic Swiss Chard: a hybrid variety with cranberry colored stems
Rhubard Swiss Chard: an heirloom variety with thick red stalks that look like rhubarb and deep red veins in its leaves
Lyon Swiss Chard: a large variety with lime green leaves and white stalks. The leaves are nearly a foot long and 10 inches wide, with great taste!
Buy seeds: Amazon, Botanical Interests, Etsy
What's the difference between Swiss chard and rainbow chard?
Rainbow chard isn't actually a variety of Swiss chard, but simply a mix!
It's three varieties sold together:
white-stemmed chard
red chard
golden chard
When these come together, they amp up the flavor so that you get a mix of classic Swiss chard, earthy sweet red chard and mild, nutty golden chard.
How to Harvest Swiss Chard
Most varieties of Swiss chard are ready for harvest in 5o to 60 days.
You can start snapping off a couple of the outer leaves once the plant is about 6 to 8 inches tall. Young chard often has more tender, flavorful leaves and tastes great eaten fresh.
As long as you leave the inner crown intact, the plant will continue to grow more leaves.
Use clean, sharp garden shears and harvest regularly. Swiss chard is a 'cut and come again' vegetable, so as you eat the largest, oldest leaves on the outside, new young ones will continue to grow from the center.
Can You Grow Swiss Chard from Cuttings?
Swiss chard propagates through seeds so cuttings are unlikely to work.
You can let the plant go to flower and collect seeds for the next season that way! Start indoors under grow lights or direct sow outdoors in garden beds.
How to Store Swiss Chard
Swiss chard wilts quickly, so it's best to cut leaves and use them the same day.
For short term storage, place the cut stems in a glass of water with a plastic bag over the top of the leaves (the same way you'd store herbs). This allows the stems to retain moisture.
For longer-term storage, separate the leaves and the stems.
Wrap the stalks in paper towels and place them in a plastic bag with as much of the air pressed out as possible. Store it in the crisper drawer of your refrigerator and it should last about 3 to 4 days. Don't wash your harvest until right before you use it.
You can also freeze Swiss chard!
Wash and dry the chard and again, separate the leaves from the stems. Blanch the stems in boiling water for ~2 minutes and place them in an ice bath to stop the cooking process. Blanch the leaves as well, for just a minute, then put them in the ice bath.
Blanching the leaves helps them retain their bright color.
Let the produce dry and place it on a baking tray. Freeze them until solid, then transfer to a freezer storage bag.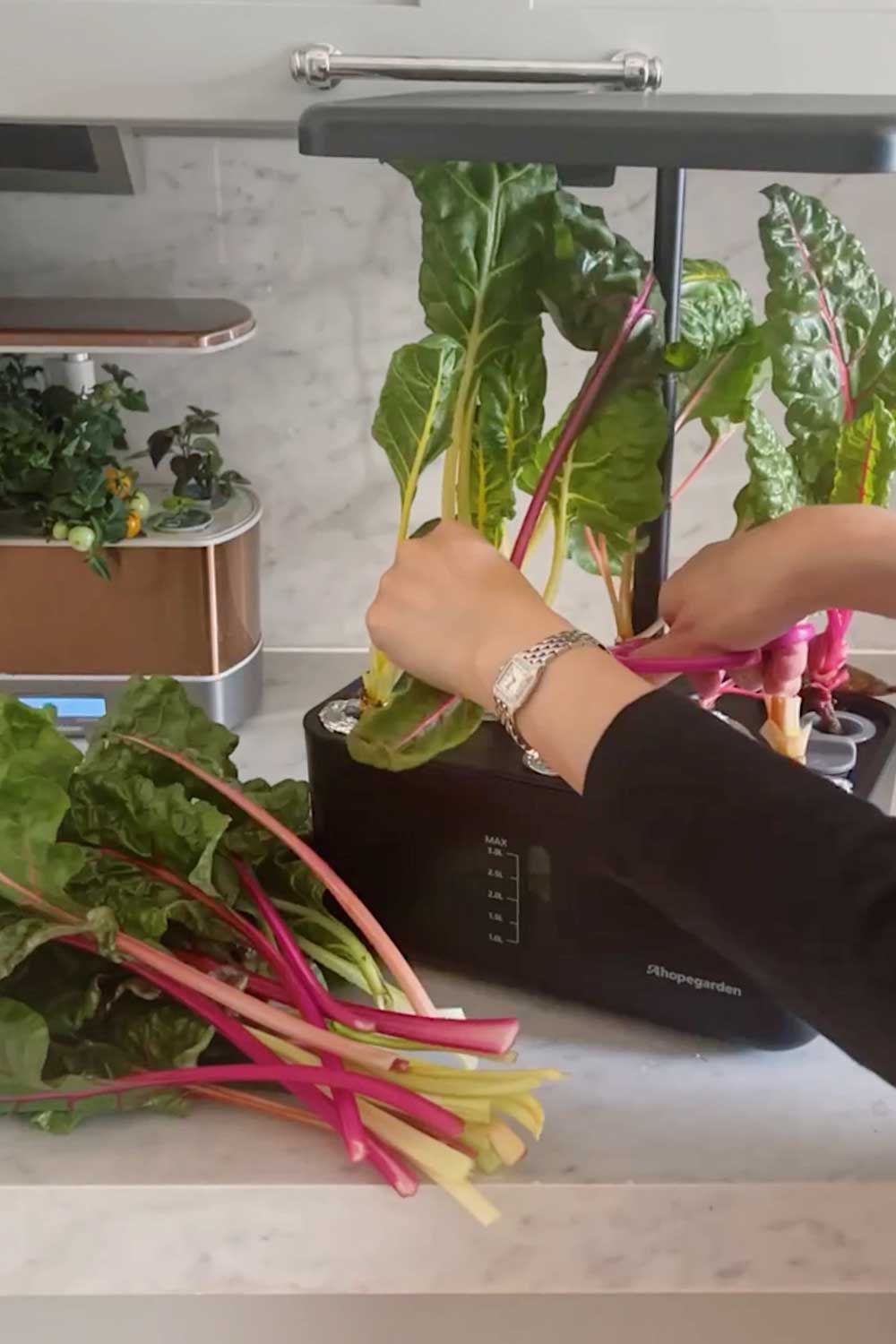 more hydroponics + recipes on tiktok @shershegrows
What does Rainbow Swiss chard taste like?
Swiss chard has an earthy, sweet taste with just a hint of bitterness.
The stalks are similar in texture to celery – crisp and crunchy – but taste slightly sweeter, like beets.
For the best taste, harvest the leaves when they're young and tender. If you allow the plant to grow to its full capacity (over a foot long) the leaves will taste more tough and bitter.
Can you eat the whole rainbow chard?
Yes! Both the stems and leaves of rainbow chard are edible.
How to Cook Rainbow Swiss Chard
For even cooking, separate the ribbed stems from the leaves.
Chop the stems into bite size pieces and cook first. Then add the leaves.
I like to make a simple stir fry out of Swiss chard, by sautéing the stems and leaves in a hot cast iron pan with salt, pepper and olive oil. It's an easy side dish to whip up in under 10 minutes and super healthy!
You can also use Swiss chard as a substitute for spinach or kale, especially the latter if you find kale too bitter.
Use the leaves in salads, sandwiches or smoothies. Swiss chard holds its shape really well, so I also use the whole plant in soups and stews.
If you're cooking with Rainbow Swiss chard or a red variety of chard, know that the color will bleed. If you're making a pasta dish or anything with cheese, they might turn pink!
Rainbow Swiss Chard Recipes
Follow me on